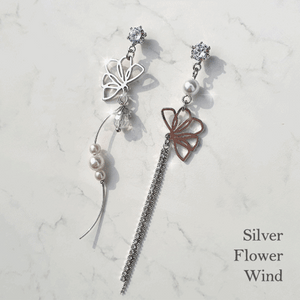 Product Story
A pair of very dainty and dreamy asymmetric flower design earrings with a wavy shape. It seems like the earrings are carrying the beautiful scent of flowers in their shapes. Wear these earrings to add instant bling-bling to your casual and formal looks alike.
Product Detail
⦁  Post Material: Nickel-free gold plated on brass
⦁  NOT available as clip-on earrings.
⦁  Material: Cubic Zirconia, Brass, White-gold plating, Alloy, Acrylic pearl, Crystal, etc